Specification of BESTEM honeycomb core height and cell size
Thanks to the unique hexagonal structure inspired by the natural constructions created by bees, paper core is characterized by high compressive strength and little weight, which plays a vital role in transport (e.g., air transport). This material, due to its unique features, works well in various applications, for example as a filler of free spaces inside the door, the basic structure strengthening the cell board or after sticking the top layers of paper, an independent and very light honeycomb board.
Cell size
The BESTEM company as a honeycomb core manufacturer in its primary offer has four most popular and universal cell sizes, forming a carefully selected by our specialists standard, which will facilitate the selection of the right product for you. We are also open to orders for non-standard cell dimensions.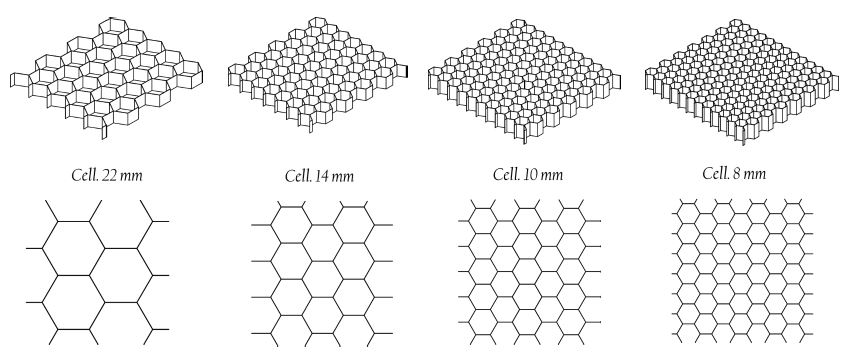 22 mm – The large cell size allows a significant decrease in material weight.
14 mm – The most optimal size. It allows to maintain average compressive strength while reducing weight and production cost.
10 mm – It is characterized by high compressive strength, making it suitable for applications requiring a highly resistant material.
8 mm – Material characterized by the highest compressive strength.
Core height
Flexibility in the selection of the honeycomb core height allows for better matching of products to meet your requirements. In our offer, you can find the material in a vast range of heights from 7.5 mm to 103.5 mm.